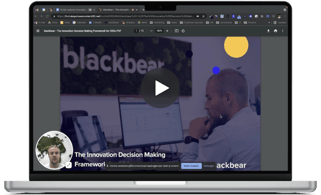 Frustrated that you always seem to be investing in innovations that go nowhere? We're here to help.
Sign up for our webinar to learn how to make smarter decisions for your business.
We're inviting all CEOs to join the blackbear team as they take a deep dive into innovation decision making in an exclusive 23 minute webinar. We explore how the wrong decisions can hinder growth, and support leaders in making better decisions that drive real results, helping businesses remain relevant and connected to the market.